PEACE FAMILY HOUSING MINISTRY
Saying YES in God's Backyard
A groundbreaking opportunity to fill a crucial gap in transitional housing needs
to help families stay together during times of crisis. And you can help!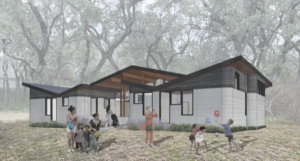 IT TAKES A VILLAGE
LOCATION
10625 N FM 620, Austin, Texas
Land, leadership, and funding provided by Peace Lutheran Church (peaceaustin.org)
Foundation for the Homeless, FFH
(foundationhomeless.org) will provide
services and manage day-to-day operations.
A partnership agreement was signed with
FFH in April of 2021.
DESIGN & CONSTRUCTION PARTNERS
HomeAid Austin (homeaid.org) is
coordinating many partnerships for
collaboration & cost savings. Peace Family
Housing Ministry was selected as a
HomeAid project in 2022.
AIA Austin Design Voice,
(aiaaustin.org) assisted with design.
Jason Haskins, their 2023 chairman is the
lead architect for this project, and part of
h+uo Architects
(huoarchitects.com/)
In 2021, Peace Lutheran Church started this dream project, with a unanimous vote of the congregation, providing over $2,000 from a bequest from Eileen Moe and a transformational ministry grant of $7,500 from the Southwestern Texas Synod of the ELCA for initial expenses.
Lord of Life Lutheran Church donated an amazing legacy gift of $500,000 to
help fund this Vision. This and other funding sources have already provided 47% of
the needed $1,100,000 to pay for the demo of an existing building, design,
site prep, and construction of the new facility.
Four Private Units (shown in blue)
-bathrooms with separate vanity
Common Areas (shown in red & gold)
-large kitchen (2 cooking areas & a
fridge/pantry space for each family)
-indoor & outdoor dining areas
Fully Accessible
Accommodates
families with
children of all ages
Stays last 30-90
days while service
partner supports
search for
permanent housing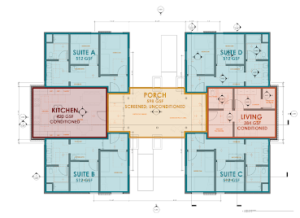 HOW TO HELP MAKE THIS DREAM A REALITY
Peace Lutheran Church
PO Box 171047
Austin, TX 78717-0039
(please write "Housing Ministry"
in the memo line of
check)
Use your credit/debit card or your checking account to make

a one-time contribution or to set up recurring giving.
Come to Sunday morning worship at 10 AM to donate through the offering plate.